Adept Enterprise® - Shoreline Permit Software
Adept Enterprise® Shoreline Permit Software and Complete Land Management Private Cloud software system.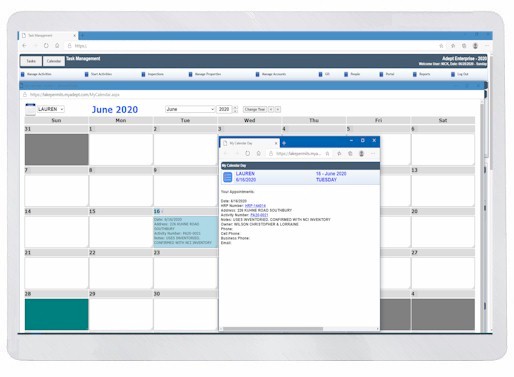 "The New Standard for Shoreline Permit Management Operations"

The Adept Enterprise ® Shoreline Permit Management System is a web-based software tool that provides for the comprehensive management of shorelines. It is specifically designed for Hydropower Project Reservoirs licensed by FERC, Corporate Real Estate Divisions, Water Districts and the U.S. Army Corps Lake and Recreation operations.

Adept's Shoreline Permit system consolidates your shoreline management operations and workflow processes, providing convenient, centralized access to shoreline permit and license data. Every Adept solution comes with end to end customization tailored to meet the unique and growing needs of your organization. Adept also offers Hosted Software as a Service plans for all its products, providing customers with state of the art, Secure Cloud options.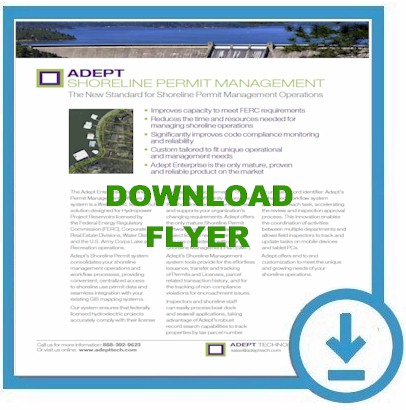 KEY FEATURES

Automate Permit Tracking and Workflow

Be more productive with Adept Enterprise ® software. Reduce paperwork, efficiently monitor and enforce permit, lease and license requirements and resources on your existing project lands. Issue and track permits for approved uses with ease, consistent with your existing Shoreline Management Plan.

Adept's enhanced Workflow Automation feature enables you to tailor your team's activities, helping your staff to prioritize workload and to stay on schedule.Federally licensed hydroelectric projects are responsible for the management and control of shoreline developments and to ensure that related shoreline development activities occur within project boundaries. The Adept Shoreline system ensures compliance with Federal license requirements, efficiently automating the shoreline management process.

Adept's shoreline management tools provide for the effortless issuance, transfer and tracking of permits and licenses. The Adept system manages the process for property owners adjacent to your project boundary who are developing a facility or requesting a use by automating the entire permit application process from submission and approval, through to the issuing of permits and performance of the final inspection.

Your Adept shoreline system can be set-up with your existing legacy permit data and/or with new permit records created by performing an inventory of uses for each property. Individual property data is linked with your County or Township tax assessor parcel records, as well as your existing GIS system.

As applications are submitted for approval, built in search tools quickly help your staff find the relevant permit or property record. Automated workflow routing assigns pre-defined tasks to responsible parties and track deadlines, helping staff to prioritize their workload. Specific Use and facility specifications, such as size, location and construction materials are entered. During the permit review process, the status of individual permits is automatically updated, identifying the current permit process stage for accurate, on demand reporting and analysis.

Shoreline offices that collect Annual Fees based on marina licenses or calculated facility sizes are supported by the Adept Annual Fee system that automatically computes fees and generates property invoices based on your process-specific criteria, interfacing directly with your accounting department for billing.

Shoreline Management Key Features

The versatile Adept System can track permit records and land uses for a property
The Adept System tracks Violations, Complaints, Pre-Applications and Certified Contractors
Transfers all of a property's data to a new owner
Apply custom business rules and alerts to prohibit permit issuance
Run reports in Crystal for accurate data analysis
Store and retrieve correspondence and photos
Online application portal for applications and electronic document uploads
System Admin tools for staff user administration and configuration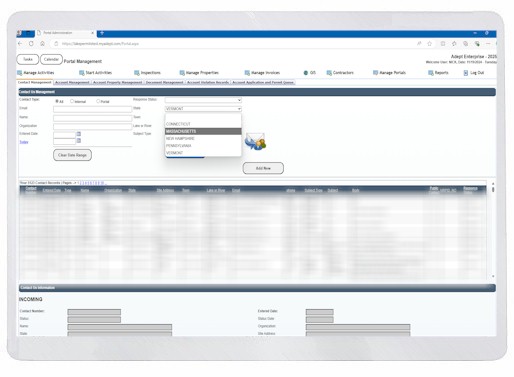 System Benefits

The Adept Shoreline System is the only mature, dedicated product developed and refined with ongoing feedback from our Shoreline customers
Greatly improve your organization's capacity to meet FERC requirements
Reduce the time and resources required to manage operations
Every Adept Shoreline System implementation is custom tailored to your specific requirements
Adept software systems are also offered as Secure Cloud-based, Hosted solutions that minimize system management and data security concerns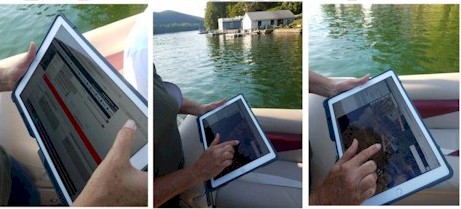 Compliance Enforcement

The Adept Enterprise ® Shoreline Management System helps you to oversee shoreline activities and take action against unauthorized encroachments along your project boundaries. Reinforce your SMP goals by ensuring that adjacent property owners and marinas apply for permits prior to facility development and use. Effortlessly issue, track and collect penalty fees on Notices of Violation for infractions.

Adept's Clients can consolidate multiple databases into one manageable location, automate manual processes, prioritize work and cut expenses by eliminating paper-based procedures. Productivity increases and errors are virtually eliminated.

Consolidate Your Legacy Data

Eliminate redundant processes and save costs by consolidating multiple data sources into one centralized location. Integrate your legacy data, Tax Assessor files, Mailing lists, inventoried property data and scanned files within Adept Enterprise ®, automatically generating individual Permits with Approved Use categories or license records as needed.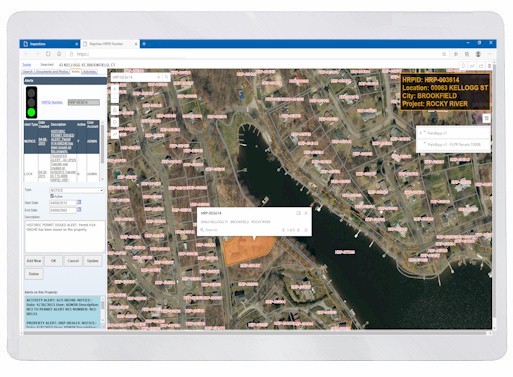 GIS Data and Map Integration

The existing GIS maps created within your own GIS systems interface directly with Adept Enterprise ®, linking mapping and aerial imagery property information with property ownership data that is instantly accessible by Field Inspectors in real time. The Adept system pinpoints the specific location of project boundaries using GIS data and identifies the types of uses and facilities located along your shoreline

Security is our Top Priority

A key feature separating Adept systems from all others is our game changing Adept Enterprise® Secure technology that is integrated within all of our software systems. Adept's revolutionary technology is never breached, ensuring that sensitive data remains safe and that end users are protected. Adept provides this seamless level of protection without the use of complicated protocols and system performance is never compromised.

Back