Adept Enterprise® - Planning Department Software as a Service
Adept Enterprise® the advanced cloud computing service.
Innovative Enterprise software as a service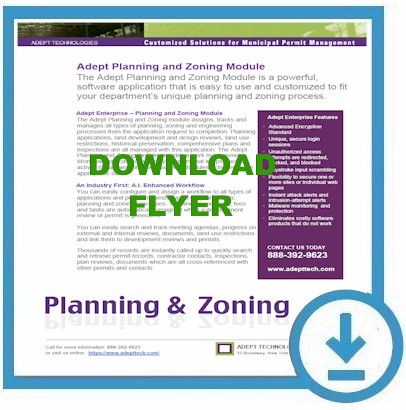 Planning and Zoning software as a service

The Adept Planning and Zoning module assigns, tracks and manages all types of planning, zoning and engineering processes from the application request to completion. Planning applications, land development and design reviews, land use restrictions, historical preservation, comprehensive plans and inspections are all managed with this application.

The Adept Planning and Zoning module includes a work management Workflow application shared by all users that keeps track of activity status, work in progress and schedules activities to the appropriate staff. You can easily configure and assign a workflow to all types of applications and permit requests based on your specific planning and zoning processes.

Timelines inspections, fees and tasks are automatically assigned when a development review or permit is generated. You can easily search and track meeting agendas, progress on external and internal reviews, documents, land-use restrictions and link them to development reviews and permits.

Data is centralized and shared between building, planning and zoning departments allowing for efficient collaboration

Inspections, and priorities are automatically scheduled and status modified based on user-defined calendar deadlines.
Attach documents and images such as site plans, applications, notices and email to each permit or review record.
Notices and correspondence templates are easily created and modified in Microsoft Word.
Inspections can be accessed remotely in real-time using mobile devices.
Parcel and Address records can be flagged to alert staff of violations, historic sites, flood plains and land-use restrictions.
Multi-layered interactive maps can be displayed with Adept GIS to track plan reviews and inspections.
Staff can generate customized on-demand reports.

Planning Department Management

Manage the life cycle of:
Developments
Projects
Activities
Structures, Floors, Units
Types, and Subtypes
Documents Images and Reports
Documents Markups, Versions and Online Site Plan submittals

Fees and Payments

Full Fee and Payment Account System
Standard Auto Fees
Miscellaneous Fees
Lookup Fees
Multiple Tender and Fees Items
Accepts all forms of payments and currency of choice.

Inspections

Planning Reviews and Inspection system
Conditons and Approvals
Event Tracking
Contractors, Engineers, Developers and Architects
Planner Calendars

Workflow

Manage and support your tasks across your organization
Master, Folder, Tasks
Tigger supported actions
Department, Groups, User, and GIS Task Assignable
Works with all Plannning Activities and Inspection Tracking
Operations and Maintenance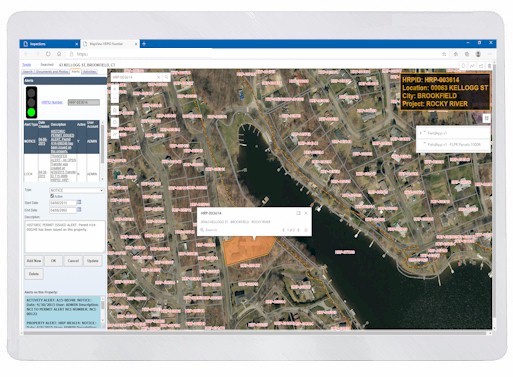 GIS Data and Map Integration

The existing GIS maps created within your own GIS systems interface directly with Adept Enterprise ®, linking mapping and aerial imagery property information with property ownership data that is instantly accessible by Field Inspectors in real time. The Adept system pinpoints the specific location of project boundaries using GIS data and identifies the types of uses and facilities located along your project.

Back