Adept Enterprise® - Code Enforcement Department Software as a Service
Adept Enterprise® the advanced cloud computing service
Innovative Enterprise software as a service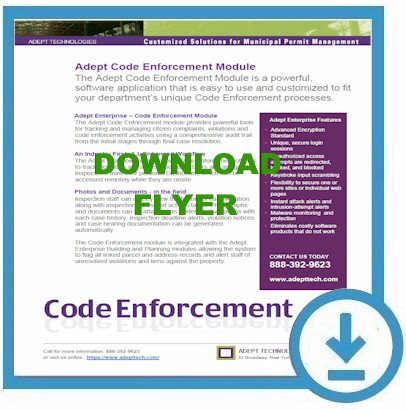 Code Enforcement software as a service

Adept Enterprise Code Enforcement module provides powerful tools for tracking and managing citizen complaints, violations and code enforcement activities using a comprehensive audit trail from the initial stages through final case resolution. The Adept Workflow module allows Code Enforcement officers to track violations and access their daily tasks and assigned inspections from their personal dashboard, which can be accessed remotely while they are onsite.

Inspection staff can quickly view the history of each violation along with inspection dates and actions taken. Photographs and documents can be attached as evidence of violations with each case history. Inspection deadline alerts, violation notices and case hearing documentation can be generated automatically.

The Code Enforcement module is integrated with the Adept Enterprise Building and Planning modules allowing the system to flag all linked parcel and address records and alert staff of unresolved violations and liens against the property.

Easily configure user-defined workflows based on your specific code enforcement process

Inspection and tasks are automatically assigned to appropriate staff, based on user -defined criteria.
Automatic alert notifications for behind schedule and follow-up tasks.
Notices and correspondence templates easily created and modified in Microsoft Word.
Inspections are automatically scheduled and status automatically modified based on user-defined calendar deadlines.
Case history and inspections can be accessed in real-time using mobile devices.
Documents, correspondence and images are linked with each case
Notices and correspondence templates are easily created and modified in Microsoft Word
Staff can generate customized on-demand reports

Code Enforcement Department Management

Manage the life cycle of:
Complaints
Violations
State Codes
Local Codes
Resolutons
Department of Environmental Protection
Water and Sewer Management
Zoning Regulations
Alert Management
Document and Photo Management

Fees and Payments

Full Fee and Payment Account System
Standard Auto Fees
Miscellaneous Fees
Lookup Fees
Multiple Tender and Fees Items
Trust Accounting
Valuation Calculator
Accepts all forms of payments and currency of choice.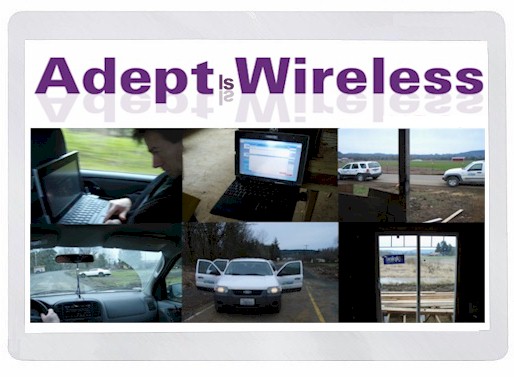 Inspections

Code Enforcement full Inspection system
Auto loads Full Code inspection system in the field for Inspection action comments
Inspection Class
Inspection Zones
Inspector Calendars

Workflow

Manage and support your tasks across your organization
Master, Folder, Tasks
Tigger supported actions
Department, Groups, User, and GIS Task Assignable
Works with all Activities and Inspection Tracking
Operations and Maintenance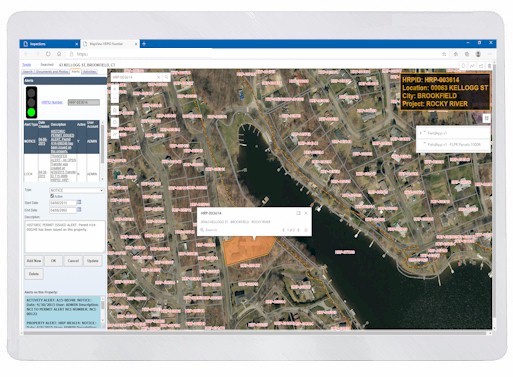 GIS Data and Map Integration

The existing GIS maps created within your own GIS systems interface directly with Adept Enterprise ®, linking mapping and aerial imagery property information with property ownership data that is instantly accessible by Field Inspectors in real time. The Adept system pinpoints the specific location of project boundaries using GIS data and identifies the types of uses and facilities located along your project.

Back