Adept Enterprise® - Building Department Software as a Service
Adept Enterprise® the advanced cloud computing service.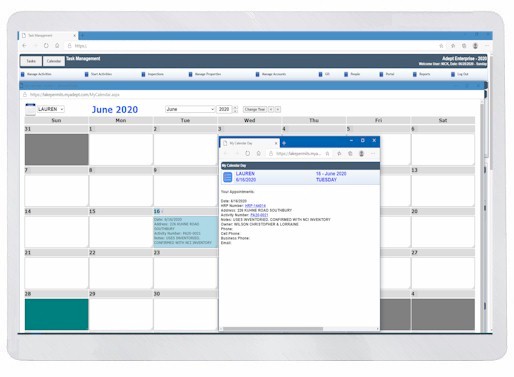 Innovative Enterprise software as a service

Building Permit software as a service

The Adept Building Permits Module is a powerful, software system for building permit, inspections and fee processing that is easy to use and customized to fit your department's unique permit process.

Part of the core Adept Enterprise system, the Building Module has been developed using the latest Microsoft .NET tools. We developed a flexible system that simplifies your department's permit and inspection process and offers enhanced record tracking features for quick permit transactions.

Thousands of records are instantly called up to quickly search and retrieve permit records, contractor contacts, inspections, plan reviews, documents which are all cross-referenced with other permits and contacts. Adept's Building Module allows Building inspectors to be more productive conducting inspections in the field with remote permit data access with mobile devices, while contractors can get real-time updates of their inspection status over the web.

Minimal screens and data entry is required where you can select centralized permit data and within a few clicks and easily generate a permit. All Building permit data, parcel information and workflows can be shared and updated with multiple departments including GIS, Tax Assessor, Planning/Zoning, Engineering and Code Enforcement departments.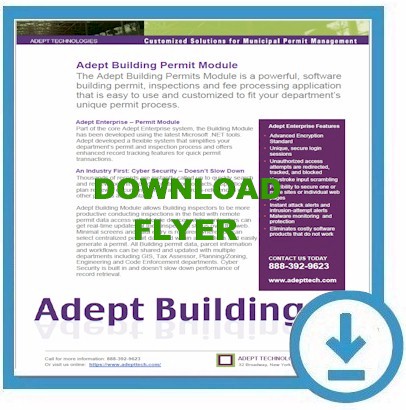 Changes and updates can be easily made to permit and inspection types, fees, account codes, approvals and workflows that do not require IT support.

Internet access is available for permit and inspection status, inspection requests and generate simple permits.
Seamless integration with your GIS system.
Set up conditions and warning flags on all records to prevent the issuance of permits, final inspections, COs and CC's.

Set up workflow reminders for staff to be alerted of review timelines, send email notifications when deadlines are approaching and automatically print progress reports.

Fully integrated cashiering system.
Flexible query capability for standard and ad hoc reports based on user-defined criteria.
Each permit stores electronic files and images that are associated with plans, inspections, permits.
Generate daily inspection schedule for each inspector by geographic area and type of inspection.

Building Department Management

Manage the life cycle of:
Developments
Projects
Activities
Structures, Floors, Units
Types, and Subtypes
Documents and Reports
Contractor Management

Fees and Payments

Full Fee and Payment Account System
Standard Auto Fees
Miscellaneous Fees
Lookup Fees
Multiple Tender and Fees Items
Trust Accounting
Valuation Calculator
Accepts all forms of payments and currency of choice.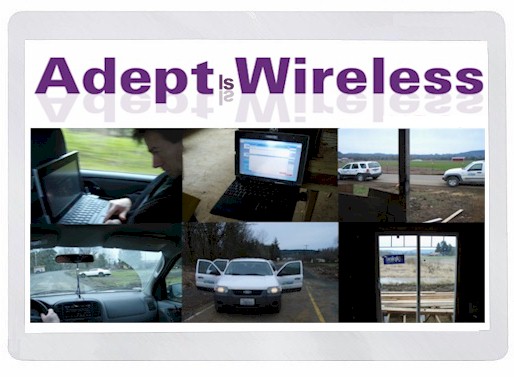 Inspections

Building Code Inspection system
Auto loads Full ICC inspection system in the field for Inspection action comments
Inspection Class
Inspection Zones
Inspector Calendars

Workflow

Manage and support your tasks across your organization
Master, Folder, Tasks
Tigger supported actions
Department, Groups, User, and GIS Task Assignable
Works with all Activities and Inspection Tracking
Operations and Maintenance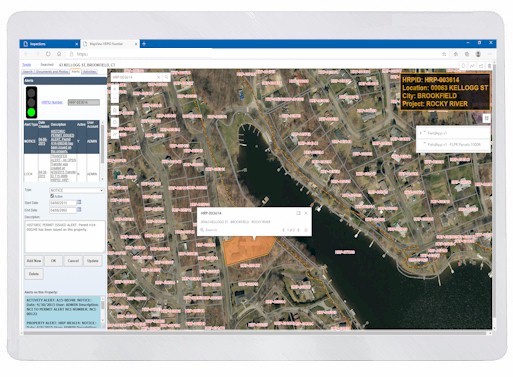 GIS Data and Map Integration

The existing GIS maps created within your own GIS systems interface directly with Adept Enterprise ®, linking mapping and aerial imagery property information with property ownership data that is instantly accessible by Field Inspectors in real time. The Adept system pinpoints the specific location of project boundaries using GIS data and identifies the types of uses and facilities located along your project.

Back